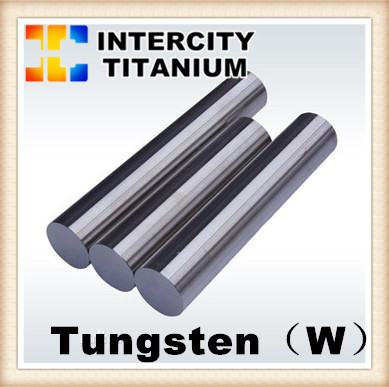 BASIC INFO
Tungsten material
Tungsten is a steel-gray to tin-white metal. Tungsten has the highest melting point and lowest vapour pressure of all metals, and at temperatures over 1650oC has the highest tensile strength. The pure tungsten is used mainly in electrical applications, but its many compounds and alloys are used in many applications, most notably in light bulb filaments, radiation shielding (as both the filament and target), and superalloys.
Main products:
Tungsten wires, bars, tubes, rolling plates, boats and other special shapes.

Tungsten Products

Tungsten rods/ Tungsten plate/ Tungsten sheet

Tungsten wire/ Tungsten electrode

Tungsten crucible /Tungsten boat/ Tungsten tube

Other specail shape
Tungsten plate, sheet, foil, strip, ribbon
Standards: ASTM B760
Size available: thick 0.05mm~65mm * Wide 600mm max * Long 1000mm max
Tungsten rod, bar, round bar
Size Available: Outer Diameter 3mm ~ 350mm * Long 6000mm max
Tungsten wire (Black wire and Clean wire)
Size available: Outer Diameter 0.01mm min ~5mm
Tungsten tube, pipe
Size available: wall thick 0.15~30mm * OD 3 ~400mm * Long 6000mm max
Tungsten boats and Tungsten crucible
Tungsten alloy
W-Cu Alloy
W:Cu 90:10
W:Cu 85:15
W:Cu 80:20
W:Cu 78:22
W:Cu 75:25
W:Cu 70:30
W:Cu 68:32
W: Cu 55:45
W-Ni-Fe
90 % W, 7% Ni, 3% Fe
92.5 % W, 5.25 % Ni, 2.25% Fe
95 % W, 3.5%, Ni, 1.5% Fe
97% W, 2.1% Ni, .9% Fe
W-Ni-Cu
90 % W 6 % Ni 4% Cu
95 % W, 3.5% Ni, 1.5% Cu
W-Mo (Tungsten Molybdenum alloy, Mo-W alloy)
Mo-30%W
Mo-45%W
W-Re (Tungsten Rhenium alloy)
W-3%Re
W-25%Re
WC
Tungsten carbide (WC) is an inorganic chemical compound containing equal parts of tungsten and carbon atoms. It's extensively used in industrial machinery, tools, abrasives, as well as men's jewellry. Tungsten carbide is four times stiffer than steel and is a much denser metal than steel or titanium.
Our Advantage:
- Competitive price.
- Our strengths over other suppliers.
- Reliable quality on the base of the same price.
- Timely delivery as your requirements.
- Professional service to cut much purchasing costs down.